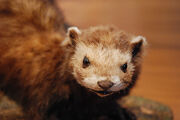 TE004 Bajang is a
HorrorClix 1.5
monster designed by
BLG
as part of his
TerrorAsia
custom set.
Original Post
Edit
4. BAJANG Hellspawn, Faerie
An evil shape-shifting jungle spirit of Malaysian myth, which preys mainly on sleeping children. The figure would depict the bajang in its most common guise: that of a large polecat (I think it would look cool if it was sculpted clinging to a large stalk of bamboo).
Points: 35
Range: 0/
Plot Twists: +0
M:07-06-05-04-03-X Leap/Climb
A:10-09-09-08-07-X Vampiric
D:16-15-15-14-13-X Shapechange*
D:02-02-01-01-01-X Disease (Area)
*As per the HeroClix power of the same name.
Ad blocker interference detected!
Wikia is a free-to-use site that makes money from advertising. We have a modified experience for viewers using ad blockers

Wikia is not accessible if you've made further modifications. Remove the custom ad blocker rule(s) and the page will load as expected.