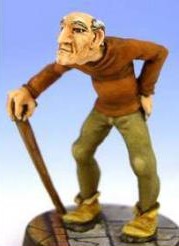 HW045 Cannibal Patriarch is a
HorrorClix 1.5
monster designed by
BLG
as part of his
HowlingWood
custom set.
Original Post
Edit
45. CANNIBAL PATRIARCH Slasher, Killer
"Killin' sheep was kinder more fun- but d'ye know, 'twasn't quite satisfyin'. Queer how a cravin' gits a holt on ye- As ye love the Almighty, young man, don't tell nobody, but I swar ter Gawd thet picter begun to make me hungry fer victuals I couldn't raise nor buy... They say meat makes blood an' flesh, an' gives ye new life, so I wondered ef 'twudn't make a man live longer an' longer ef 'twas more the same-"
-H.P. Lovecraft, The Picture In The House This is the final entry in the "backwoods cannibal" category, the aged leader of his horrible, inbred clan. The miniature would depict a tall, wizened old man with long white hair, clad in a ratty old suit and tie.
Points: 65
Range: 0/
Plot Twists: +1
M:05-04-04-03-H-05-04-03-X Older And Wiser (Boss)
A:09-09-08-07-H-09-08-07-X Creepy (Scare)
D:15-14-14-13-H-15-14-13-X Victuals (Snack)
D:02-02-02-01-H-02-02-01-X Treacherous (Assassin)
Ad blocker interference detected!
Wikia is a free-to-use site that makes money from advertising. We have a modified experience for viewers using ad blockers

Wikia is not accessible if you've made further modifications. Remove the custom ad blocker rule(s) and the page will load as expected.