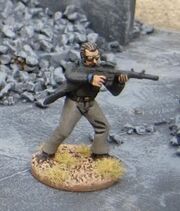 DS058 Commander Stark is a
HorrorClix 1.5
monster designed by
BLG
as part of the
Dark Streets
custom set.
Original Post
Edit
58. COMMANDER STARK Guardian, Law
A veteran officer of The Order, Commander Stark has been placed in charge of controlling the zombie siege of the City, by any means necessary. The figure would show a middle-aged man with a white flat-top haircut, wearing a headset, and a black trench coat over an officer's uniform, with a machine pistol with a laser sight in one hand.
Points: 90
Range: 5/
Plot Twists: +1
M:06-05-05-04-04-03-03-X Command*
A:10-10-09-09-08-08-07-X Master Strategist (Charmed)
D:16-16-15-15-14-14-13-X Dodge
D:02-02-02-02-01-01-01-X Leadership (Fortune)
*Friendly Cabal members who begin the turn adjacent to this monster may Frenzy, even if they have no Victim tokens.
-THE ORDER CABAL
Ad blocker interference detected!
Wikia is a free-to-use site that makes money from advertising. We have a modified experience for viewers using ad blockers

Wikia is not accessible if you've made further modifications. Remove the custom ad blocker rule(s) and the page will load as expected.