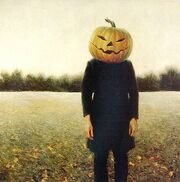 ToF023 Cuco is a
HorrorClix 1.5
monster designed by
BLG
as part of his
Tropic of Fear
custom set.
Original Post
Edit
23. CUCO Nightmare, Faerie
The "boogyman" of Latin American folklore, a cuco is a monster that gobbles up children who don't obey their parents. Descriptions vary; I would depict this monster as having a small, hairy body and a jack-o-lantern head ("cuco" is also the term for jack-o-lantern in Portuguese).
Points: 35
Range: 0/
Plot Twists: +0
M:05-04-03-02-X Dream Traveler
A:09-08-08-07-X Scare
D:16-16-15-14-X Shadowform (Stealth)
D:02-02-02-01-X Spree
Ad blocker interference detected!
Wikia is a free-to-use site that makes money from advertising. We have a modified experience for viewers using ad blockers

Wikia is not accessible if you've made further modifications. Remove the custom ad blocker rule(s) and the page will load as expected.