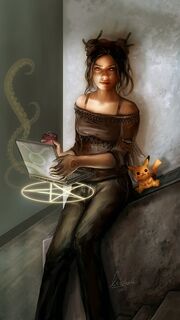 Gx037 Cyber-Wytch is a
HorrorClix 1.5
monster designed by
BLG
as part of his
Gothix
custom set.
Original Post
Edit
37. CYBER-WYTCH Occultist, Hellspawn
Witchcraft was born in stone-age Europe as a way for mankind to magically manipulate the environment. It has continued to evolve as humanity moved from caves to towns, from agricultural communities to industrial cities, and now into the Information Age... This monster is a witch who practices her craft in the new wilderness of Cyberspace. The figure would depict a woman with static-flared hair and glowing white eyes, franticly typing on two laptop computers that are hovering in the air.
Points: 50
Range: 4//
Plot Twists: +0
M:05-05-04-04-03-02-X Network'd*
A:10-09-09-08-07-06-X Datahex (Deadshot)
D:17-16-15-14-13-12-X Reboot (Regeneration)
D:03-02-02-02-02-01-X Neuro-Hacker (Possession)
*Give this monster a move action; place it on any unoccupied Bloodspot square.
Ad blocker interference detected!
Wikia is a free-to-use site that makes money from advertising. We have a modified experience for viewers using ad blockers

Wikia is not accessible if you've made further modifications. Remove the custom ad blocker rule(s) and the page will load as expected.