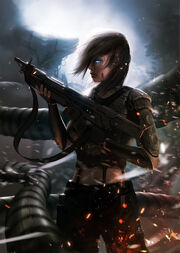 TE055 Cybertrooper Bravo is a
HorrorClix 1.5
monster designed by
BLG
as part of his
TerrorAsia
custom set.
Original Post
Edit
55. CYBERTROOPER BRAVO Guardian, Law
Inspired by the cybernetically-enhanced heroines who feature prominently in Japanese manga, this character is a young woman with high-tech augmetics, working as a SWAT-style police operative. The figure would depict a woman with cybernetic arms, clad in a partially-armored futuristic commando uniform with police markings (possibly with flashing red and blue lights on her shoulder plates...), wielding an over-sized pistol.
Points: 75
Range: 6/
Plot Twists: +0
M:07-06-06-05-05-04-03-X Protector
A:11-10-10-09-09-08-07-X
D:17-16-15-15-14-14-13-X Body Armor (Stamina) / Re-Route Systems (Regenerate)
D:02-02-02-02-02-02-01-X Hand Cannon (Accuracy)
Ad blocker interference detected!
Wikia is a free-to-use site that makes money from advertising. We have a modified experience for viewers using ad blockers

Wikia is not accessible if you've made further modifications. Remove the custom ad blocker rule(s) and the page will load as expected.