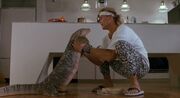 TE029 Dragonmaster is a
HorrorClix 1.5
monster designed by
BLG
as part of his
TerrorAsia
custom set.
Original Post
Edit
29. DRAGONMASTER Beast, Fanatic
A double-base figure of burly, shirtless man with an elaborate dragon tattoo and a topknot, holding two specially-bred, oversized Komodo dragons on chain leashes, goading them to attack. The Dragonmasters are the much-feared henchmen of the dreaded Golden Claw cabal.
Points: 35
Range: 0/
Plot Twists: +0
M:05-05-05-04-04-03-X Massacre
A:09-09-09-08-08-07-X Rampage
D:16-15-14-14-13-12-X
D:01-01-01-02-02-01-X Savagery
-Double Base
-GOLDEN CLAW CABAL
Ad blocker interference detected!
Wikia is a free-to-use site that makes money from advertising. We have a modified experience for viewers using ad blockers

Wikia is not accessible if you've made further modifications. Remove the custom ad blocker rule(s) and the page will load as expected.