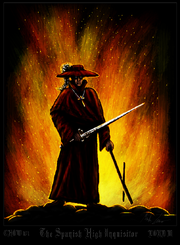 Gx056 Grand Inquisitor is a
HorrorClix 1.5
monster designed by
BLG
as part of his
Gothix
custom set.
Original Post
Edit
56.GRAND INQUISITOR Spirit, Fury
I wanted a powerful Spirit character in this set, and decided that the ghost of a Spanish Inquisition torturer would fit the bill. The figure would depict a man wearing ornate clerical robes and a tall, pointed hat with full-face mask, holding a large leather-bound book in one hand and a scourge (barbed whip) in the other; it would be cast in clear plastic and splattered with blood.
Points: 75
Range: 2//
Plot Twists: +1
M:06-06-05-05-04-H-06-05-04-X Ghost
A:11-11-10-10-09-H-11-10-09-X Spree
D:18-17-16-15-14-H-16-15-14-X Rake
D:03-02-02-02-02-H-03-02-02-X Pain
Ad blocker interference detected!
Wikia is a free-to-use site that makes money from advertising. We have a modified experience for viewers using ad blockers

Wikia is not accessible if you've made further modifications. Remove the custom ad blocker rule(s) and the page will load as expected.