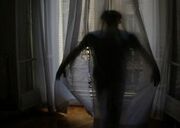 ToF030 Jumbi is a
HorrorClix 1.5
monster designed by
BLG
as part of the
Tropic of Fear
custom set.
Original Post
Edit
30. JUMBI Spirit, Fury
A Caribbean ghost. Unlike the pale spectres of Western lore, Afro-Caribbean cultures believe that ghosts are pitch-dark. The mini- would show a basic islander, cast in translucent black plastic.
Points: 35
Range: 0/
Plot Twists: +0
M:07-06-05-H-05-06-07-X Haunt
A:08-07-06-H-07-08-09-X Scare
D:16-15-14-H-15-16-17-X Shadowy (Stealth)
D:02-01-00-H-01-02-02-X
Ad blocker interference detected!
Wikia is a free-to-use site that makes money from advertising. We have a modified experience for viewers using ad blockers

Wikia is not accessible if you've made further modifications. Remove the custom ad blocker rule(s) and the page will load as expected.