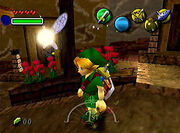 temp034 Link is a
HorrorClix 1.5
monster designed by
Sarcanis
as part of the work-in-progress
CreepypastaClix
set. It is based on the main character of the Legend of Zelda series as played in the story of
BEN Drowned
.
Original Post
Edit
Link
Guardian
75 Points, +0 Twists
4



♥ (Vampiric)
Roll (Tumble) - This monster ignores the effects of monsters, victims and hindering terrain on movement.
Mirror Shield (Stamina)
Spin Attack

- This monster's damage value becomes 2. Make a single close combat attack against all adjacent opposing monsters. Each monster hit is dealt damage. Move each monster that takes damage from this attack a number of spaces away from this monster equal to the amount damage it takes from the attack.
Hero's Bow (Accuracy)

01-02-03-04-05-06-07-08-09
06-06-06-05-05-05-04-04-ko
09-09-08-08-08-07-07-06-ko
17-17-17-16-16-16-15-14-ko
02-02-02-03-03-02-02-01-ko
Ad blocker interference detected!
Wikia is a free-to-use site that makes money from advertising. We have a modified experience for viewers using ad blockers

Wikia is not accessible if you've made further modifications. Remove the custom ad blocker rule(s) and the page will load as expected.