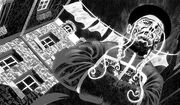 TE062 Master Xu is a
HorrorClix 1.5
monster designed by
BLG
as part of his
TerrorAsia
custom set.
Original Post
Edit
62. MASTER XU Undead, Vampire, Occultist
This monster is a variant on the Uncommon Jaing Shi: representing an evil sorcerer who has returned from the grave, he adds the Occultist class and the sorcerous power Dragon Breath. He also belongs to the dreaded Golden Claw cabal.
Points: 75
Range: 4/
Plot Twists: +0
M:05-|04-04-04-04-03-03-X Leap/Climb
A:11-|10-10-09-09-08-08-X Vampiric
D:17-|16-16-15-15-14-13-X Doesn't Bleed (Stamina)
D:04-|03-03-03-02-02-02-X Dragonbreath (Randomfire)
-GOLDEN CLAW CABAL

Ad blocker interference detected!
Wikia is a free-to-use site that makes money from advertising. We have a modified experience for viewers using ad blockers

Wikia is not accessible if you've made further modifications. Remove the custom ad blocker rule(s) and the page will load as expected.