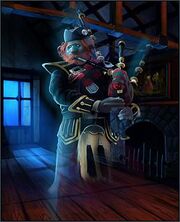 HW039 Moor Piper is a
HorrorClix 1.5
monster designed by
BLG
as part of his
HowlingWood
custom set.
Original Post
Edit
39. MOOR-PIPER Spirit, Fury
A friend of mine has recently become obsessed with exploring his Scottish heritage, so this figure is an homage to his newfound pride in his ancestors (and a reminder of the night I stumbled home drunk in pea-soup fog after helping him "celebrate" the Scottish holiday of St. Andrew's Day). This monster is the ghost of a Scottish bagpiper; the mini- would depict a man in a kilt playing the pipes, ideally cast in transparent plastic.
Points: 45
Range: 3/
Plot Twists: +0
M:05-05-04-H-05-04-03-X Fogbound*
A:09-09-08-H-09-08-07-X Screeching Pipes (Wail)**
D:16-15-14-H-15-14-13-X Phantom
D:02-02-01-H-02-02-01-X
*As per Smoke Cloud in HeroClix
**As per Pulse Wave in HeroClix
Ad blocker interference detected!
Wikia is a free-to-use site that makes money from advertising. We have a modified experience for viewers using ad blockers

Wikia is not accessible if you've made further modifications. Remove the custom ad blocker rule(s) and the page will load as expected.