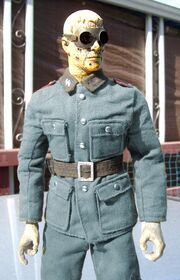 HW064 Otto v. III is a
HorrorClix 1.5
monster designed by
BLG
as part of his
HowlingWood
custom set.
Original Post
Edit
64. OTTO v. III Scientist, Killer
Last surviving member of the previous generation of Ottos, v. III would be mostly the same figure as the Uncommon Otto v. IV, with non-albino coloring and a Roman numeral 3 on his shoulder instead of a 4, and his pistol is replaced with a WWII-style stick-handled grenade.
Points: 40
Range: 5/
Plot Twists: +0
M:06-05-04-04-03-X
A:09-08-08-07-06-X Sedate (Venom)
D:16-15-14-13-12-X Meatshield*
D:02-01-01-01-01-X Grenade / Surgeon (Agony)
*As per Mastermind in HeroClix.
Ad blocker interference detected!
Wikia is a free-to-use site that makes money from advertising. We have a modified experience for viewers using ad blockers

Wikia is not accessible if you've made further modifications. Remove the custom ad blocker rule(s) and the page will load as expected.