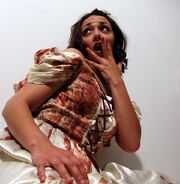 (PT) IWF061 Pretty Dress is a
HorrorClix 1.5
Plot Twist
designed by
Darkzilla
.
Pretty Dress
Edit
A monster is distracted by a victim's dress.
Play this card when a male victim is about to be slain and there is at least 1 face-up female victim in play. The slaying attempt fails and the monster's controller must determine the shortest possible movement path for the monster to become adjacent to the nearest female victim and move the monster up to its speed value along that path.
"The right fashion for the wrong occasion."
Ad blocker interference detected!
Wikia is a free-to-use site that makes money from advertising. We have a modified experience for viewers using ad blockers

Wikia is not accessible if you've made further modifications. Remove the custom ad blocker rule(s) and the page will load as expected.