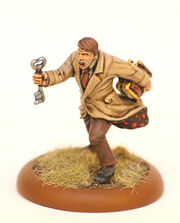 Gx063 Randolf Carter is a
HorrorClix 1.5
monster designed by
BLG
as part of his
Gothix
custom set.
Original Post
Edit
63. RANDOLF CARTER Guardian, Scholar
...So Carter bought stranger books and sought out deeper and more terrible men of fantastic erudition; delving into arcana of consciousness that few have trod, and learning things about the secret pits of life, legend, and immemorial antiquity which disturbed even him ever afterward.
-H.P. Lovecraft, The Silver Key Based of the Uncommon Antiquarian figure, the sculpt would be slightly modified, with no glasses (the face should be patterned after a photo of H.P. Lovecraft- Carter was his literary alter ego), and with a black cat rubbing against his leg.
Points: 45
Range: 0/
Plot Twists: +1
M:06-05-05-04-03-X
A:08-08-07-07-06-X Negotiate*
D:16-15-15-14-12-X Nine Lives (Dodge)
D:01-01-01-01-01-X Advise**
*Monsters attempting to attack this monster must first roll a 4+ on a d6, or take another action.
**As per Perplex in HeroClix.
Ad blocker interference detected!
Wikia is a free-to-use site that makes money from advertising. We have a modified experience for viewers using ad blockers

Wikia is not accessible if you've made further modifications. Remove the custom ad blocker rule(s) and the page will load as expected.