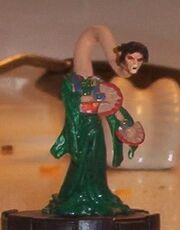 TE042 Rokurokubi is a
HorrorClix 1.5
monster designed by
BLG
as part of his
TerrorAsia
custom set.
Original Post
Edit
42. ROKUROKUBI Nightmare, Faerie
This Japanese folk monster appears to be a beautiful woman...until her neck stretches out like a giant snake to trap victims! The miniature would consist of a kneeling woman dressed in a traditional kimono, with her neck stretched out to about 10' long, posed in serpentine coils... or better yet it could be cast in soft rubber, with a wire in the center to make it poseable!
Points: 35
Range: 0/
Plot Twists: +1
M: H- H-04-04-03-02-X Reach*
A: H- H-08-08-07-06-X Scare
D:15-15-16-15-14-13-X Trap
D: H- H- 02-02-01-01-X
*As per the Giant ability of the same name.
Ad blocker interference detected!
Wikia is a free-to-use site that makes money from advertising. We have a modified experience for viewers using ad blockers

Wikia is not accessible if you've made further modifications. Remove the custom ad blocker rule(s) and the page will load as expected.