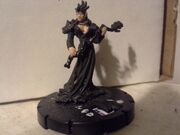 Gx025 Shadow Witch is a
HorrorClix 1.5
monster designed by
BLG
as part of his
Gothix
custom set.
Original Post
Edit
25. SHADOW WITCH Occultist, Hellspawn
Representing the other side of the witchcraft coin, this villain is dedicated to black magic. The figure would be a sexy woman with long black hair, dressed in a low-cut black dress, holding a curved knife in one hand and a skull in the other.
Points: 50
Range: 5/
Plot Twists: +0
M:06-05-05-04-03-X Summon Shadows*
A:09-09-08-08-07-X Fate of One
D:16-15-14-13-12-X Shadow-Walker (Phantom)
D:02-02-02-01-01-X Agony / Hungry Darkness (Area)
*As per Smoke Cloud in HeroClix
Ad blocker interference detected!
Wikia is a free-to-use site that makes money from advertising. We have a modified experience for viewers using ad blockers

Wikia is not accessible if you've made further modifications. Remove the custom ad blocker rule(s) and the page will load as expected.