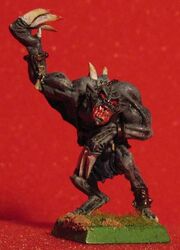 Gx023 Strigoi is a HorrorClix 1.5 monster designed by BLG as part of his Gothix custom set.
Original Post
Edit
23. STRIGOI Undead, Vampire
This is an Eastern European vampire. Like the Nosferatu from the first set, this vampire can choose to Change into a monstrous Beastform.
Points: 65
Range: 0/
Plot Twists: +0
M:06-06-05-05-04-X|08-07-06-05-04-X Mistform (Ghost) / Grave
A:10-09-09-08-07-X|11-10-09-08-07-X Vampiric
D:17-16-15-14-13-X|15-15-14-13-12-X Dodge / Tough Pelt (Stamina)
D:03-02-02-02-01-X|03-03-02-02-01-X Transform (by killing Victim) / Slash
Ad blocker interference detected!
Wikia is a free-to-use site that makes money from advertising. We have a modified experience for viewers using ad blockers

Wikia is not accessible if you've made further modifications. Remove the custom ad blocker rule(s) and the page will load as expected.