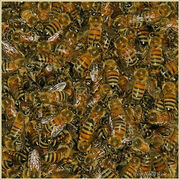 (PT) IWF070 Subplot: Deadly Swarm is a
HorrorClix 1.5
Plot Twist designed by
cthulhu-boy
.
Subplot: Deadly Swarm
Edit
Swarms get worse.
When this card comes into play, select a monster you control. That monster is now the Swarm Master. As long as the Swarm Master is in play, all Swarms have the following powers:
Stamina - Damage dealt to this monster is reduced by 1.
Venom (Torture) - If the attack succeeds, you may choose to deal no damage. If you do, give the target an action token instead.
If a Swarm already has Stamina, damage dealt to it is reduced by an additional 1. If the Swarm Master dies, remove this card from the game.
Ad blocker interference detected!
Wikia is a free-to-use site that makes money from advertising. We have a modified experience for viewers using ad blockers

Wikia is not accessible if you've made further modifications. Remove the custom ad blocker rule(s) and the page will load as expected.