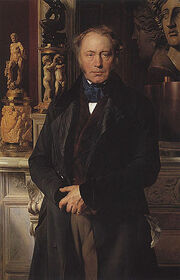 Gx047 The Black Baron is a
HorrorClix 1.5
monster designed by
BLG
as part of his
Gothix
custom set.
Original Post
Edit
47. THE BLACK BARON Mastermind, Hellspawn
Today "Gothic" is synonymous with vampires, ghosts, and werewolves. At its height of popularity in the 19th century, however, the most common Gothic villain was the sinister, vaguely Satanic nobleman; J.S. LeFanu's Uncle Silas is probably the most famous example today. That archetype is the inspiration for the Black Baron, but since this is HorrorClix, I've dropped the "vaguely" qualifier from his Satanic-ness: this villain is a devout follower of the Left Handed Path. The miniature would depict a middle-aged man dressed in black Victorian formal wear.
Points: 55
Range: 0/
Plot Twists: +1
M:06-06-05-05-04-03-X Intimidate
A:10-09-09-08-08-07-X Boss
D:17-17-16-16-15-14-X Satanic Pact*
D:02-02-02-01-01-01-X Assassin
-HELLBOUND CABAL
*If this monster takes damage, roll a d6: on a "6", turn this monster's dial to the starting line and place the figure in your set-up area with two action tokens.
Ad blocker interference detected!
Wikia is a free-to-use site that makes money from advertising. We have a modified experience for viewers using ad blockers

Wikia is not accessible if you've made further modifications. Remove the custom ad blocker rule(s) and the page will load as expected.