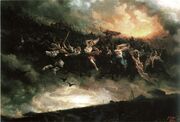 (PT) HW008 The Wild Hunt is a
HorrorClix 1.5
Plot Twist
designed by
BLG
as part of the
HowlingWood
custom set.
The Wild Hunt
Edit
Phantasmal huntsmen and their baying hounds thunder through the skies above, presaging catastrophe.
Play this card at the beginning of your Preview phase. Until the beinning of your next turn, all die rolls must be rolled twice. The least favorable results must be used.
Ad blocker interference detected!
Wikia is a free-to-use site that makes money from advertising. We have a modified experience for viewers using ad blockers

Wikia is not accessible if you've made further modifications. Remove the custom ad blocker rule(s) and the page will load as expected.