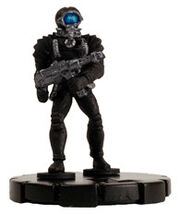 ToF006 Treasure Hunter is a
HorrorClix 1.5
monster designed by
BLG
as part of his
Tropic of Fear
custom set.
Original Post
Edit
6. TREASURE HUNTER Guardian, Vigilante
Many people come to the Caribbean hoping to find sunken treasure and strike it rich. This figure is a skin-diver, with a diving mask and snorkel, armed with a speargun. The miniature would be posed with one foot propped on a Spanish Main-era treasure chest.
Points: 25
Range: 4/
Plot Twists: +0
M:06-05-04-03-X Snorkel (Submerge)*
A:09-08-07-06-X Hunter (vs Aquatic)
D:15-14-13-12-X
D:01-01-01-01-X Speargun (Accuracy) / Out Of Ammo (No Ranged Attack)
-Swimming Movement
*Lines of sight to this monster are considered blocked if it occupies water terrain.
Ad blocker interference detected!
Wikia is a free-to-use site that makes money from advertising. We have a modified experience for viewers using ad blockers

Wikia is not accessible if you've made further modifications. Remove the custom ad blocker rule(s) and the page will load as expected.