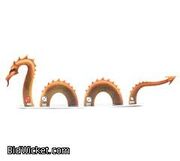 TE066 Tsuro is a
HorrorClix 1.5
monster designed by
BLG
as part of his
TerrorAsia
custom set.
Original Post
Edit
TSURO Beast, Faerie, Aquatic
No Asian-themed set would be complete without a dragon! This is a serpent-like sea dragon from the Pirates of the Cursed Seas game, which was summoned from its long sleep three hundred years ago by the notorious Jade Rebellion to wreak havoc on the colonial powers. Unseen for over a century, something has recently roused its ire yet again, sending it rampaging across the oceans of the modern world. This would be a double-based Giant figure, with a terrifying number of "adjacent" squares.
Points: 150
Range: 0/
Plot Twists: +0
M:10-10-09-09-08-08-07-07-06-06-05-X Shove
A:11-10-10-10-09-09-09-08-08-08-07-X Wrecker (Unseal)
D:15-15-15-14-14-14-13-13-13-12-12-X Invulnerable
D:04-03-03-03-03-03-02-02-02-02-02-X Swallow Whole (Massacre)
-Double Base; Giant; Swimming Movement
Ad blocker interference detected!
Wikia is a free-to-use site that makes money from advertising. We have a modified experience for viewers using ad blockers

Wikia is not accessible if you've made further modifications. Remove the custom ad blocker rule(s) and the page will load as expected.